Planning a Trip
Choosing a Destination - Weekend getaways aside, my trip lasts no more than twelve days, and its overall cost does not exceed the double of the round-trip air fare. (For example, if it takes $1200 to fly between Los Angeles and Milan, Italy at peak season, then the entire trip will not cost more than $2400). This rules out such fantasies as Tanzanian safaris, Nepali treks and Patagonian caravans until I retire. Before then, there are many other choices.
Dalsinibba, Norway -- Up the Trolls' Steps, over the misty peaks of the Dalsinibba, then onward to Stryn and the Jostedal Glacier...get a VW and you can do this in a morning. This photo is taken with the Nikon F100, f2.8 28mm lens, scanned Fuji ISO 200 film.
Rugged coastlines, islands and glacial lakes are especially appealing to the landscape photographer, since they dramatically juxtapose vertical precipices against a composition-defining horizon. Other boons along the shore include ferries to ease the rigour of long drives, quaint harbour towns, and fresh seafood. My travels since 1996 consistently reflect this penchant for the land-sea nexus: the Inside Passage of British Columbia ('96), Alaska's Kenai Fjords and Prince William Sound ('97), California's Coastal Redwoods ('97), Cumbria and the Western Isles of Scotland ('98), Norwegian Fjordland ('99), Côte d'Azur ('99), Kauai ('00), Victoria BC ('00) and the Ligurian coast of Italy ('00). Still on my five-year list are Maine, Nova Scotia and Newfoundland, Iceland, Chile, New Zealand ('02) and Tasmania.
Friedrichshafen, Baden-Württemberg, Germany -- Ryanair does not offer service to Switzerland. If you are not in a hurry to see the Jungfrau, though, you can fly Ryanair to the northern shore of Lake Constance, enjoy the sights along the German-Swiss border, and save quite a bit on airfare.

This photo is taken by my dad with the Nikon D100 and the Nikon f2.8 28mm lens. A reminder: DO NOT take pictures of airports in Russia or Israel!

Choosing an Airline - Major airlines buy your loyalty with their frequent miles. For those long, transoceanic hauls, it certainly doesn't hurt to accumulate the miles from one or two carriers over the years, even if the free trip you do eventually earn will not exactly fit your schedule or itinerary.

For shorter connections to your secondary destinations, major airlines aren't always available, or preferable.

Allow me to do a shameless -- and utterly voluntary -- promotion here for the Irish budget airline Ryanair, which flies between the smaller, more efficient regional airports away from the main urban centers of Europe. Provided that you can tolerate Stansted Airport, and have the leisure to take a long ride on a train, bus or ferry just before and after your flight, Ryanair is positively the most cost-effective way to travel throughout western Europe.

Had we not flown Ryanair for our four-day trip to Switzerland in 2003, My father and I probably wouldn't have enjoyed the charming lakeside towns of Friedrichshafen and Romanshorn, at opposite shores of the Bodensee (Lake Constance). Neither would we have saved at least $120 per person on airfare.
Routes and Logistics - Light is fleeting, the weather capricious, ferries leave at dawn and "the place" is always another mile out of reach after dark. It is thus imperative for me to move quickly, go far and stop anywhere. Ironically, this freedom is assured only through sound planning: the more I know about where I can be at a given time, the more choices I will have once I am just about there.
No one on holiday would expect to drive from Lac Leman to the Mediterranean and back in a day, but once I knew what to expect from such a hasty excursion, and have a garage space and hotel bed in Geneva waiting for me no matter how late I'd return, it became a viable -- and exciting -- option. In Bergen, I did not want to miss another scenic drive along the Sognefjord and the Hardangersvidda, but the fish market and the cloistered retreat at the University towards the end of a long, exhausting itinerary warranted a full day without being more than three miles away from my writing desk.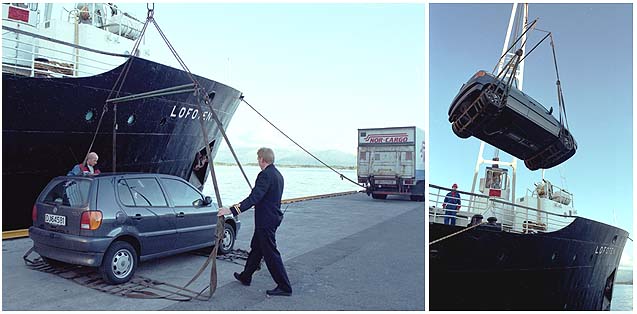 Molde, Norway -- "Bergen?" asked the first officer of the hurtigrute Lofoten. As soon as I said "ja" and showed him the ticket for myself and my Polo, he guided me over the nets. Then the experienced crew hoisted the car aboard in less than 30 seconds. These photos are taken with the Nikon F100, f2.8 28mm lens, scanned Fuji ISO 200 film.
Building a file with pages from The Rough Guide, Fodor's, AAA maps and web site printouts, I book what must be booked at least a month in advance; voyages like the Inside Passage or the Norwegian hurtigrute must be arranged even further ahead. Not all charming, isolated seaside dives have web sites (or even email), and so it helps to look up a few phone numbers. From Flodiggary, Skye to Kapaa, Kauai, I rang up innkeepers who kindly referred me to their friendly competitors when they themselves had no vacancy.
Tempting as the long daylight hours of summer may be, I will limit my driving to no more than 300 miles (480 km) a day along a major highway. Typically, this distance is an arc extending 150 miles (240 km) from my base at the start and finish of the drive. If I must reach a point further than 300 miles from my base, I will have another place to sleep at the end of that day. Once I plot a course within 1,500 miles (4800 km) of the airport, my 10-day itinerary is created.
Driving gives one the greatest mobility and flexibility, and the rear of a vehicle is indispensable to an equipment-laden cameraman. While the rental car is a necessity in seeing North America, Australia and New Zealand, in Europe and elsewhere it becomes an expensive and often precarious luxury. A first-class Eurail pass for 8 days costs noticeably less than car rental for the same duration, and the added comfort, leisure and spontaneous camaraderie of a train cabin are well worth the premium. In small, densely populated areas such as Switzerland and the Benelux countries, mass transit is so extensive that it is eminently more preferable than getting yourself trapped in the congested roads, or not finding a parking space for hours.