Northern Italy: Lake Como, Milan, Pisa and Venice

9th-16th July 2000
From the Ligurian coast to the Alpine lakes and the Adriatic -- There were boons and tradeoffs for finding a refuge in Lanzo d'Intelvi, a bucolic retreat tucked above the thickly-wooded hills between Lake Como and Lake Lugano, within 2km of the Italian-Swiss border. The tranquil spot was superb, as I awoke not to the sounds of motorcycles, but of birds. One may as well enjoy this at leisure, however, as it sometimes takes two hours to drive the 75km (47 miles) of narrow, congested though scenic roads between Lanzo and Milan.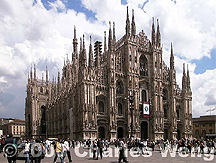 Despite its preoccupation with modernity, Milan does not forget its illustrious past. The geographical, civic and spiritual heart of Italy's commercial hub remains ever the grand cathedral square, where the church's many-spired, non-Italianate Gothic majesty stands in stark contrast to the nearby monumental arch of the Galleria Vittorio Emanuele II. Past its signature marble floors and glass ceilings, La Scala Opera House is only a few steps away.
Bellagio, or "pretty lake," is an aptly-named tourist's trap: it commands a sublime view at the promontory between the two southern legs of Lake Como, and is sufficiently remote to occupy a traveler's entire morning, if not the whole day. Tourism is the little town's singular raison d'etre, from the elegant hotels perennially favored by aristocrats to the souvenir shops at every corner.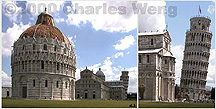 Visitors in Pisa converge at the miraculous cathedral complex (Campo di Miracoli), where they wonder if the leaning bell tower will ever fall over. The Romanesque church, with its Byzantine mosaics and stonework, is a brilliant refutation of the so-called "Dark Ages" that never befell the Italian peninsula, except during Fascist rule under Mussolini.
Words have long been exhausted to describe the splendor of Venice. As it is defined for centuries, the consummate tourist is one who rides in a gondola down the Grand Canal, past Ponte Rialto, the Piazza San Marco and into the city's maze of narrow waterways. Twelve years ago, Venice was my first train stop in Italy as I arrived from Yugoslavia. Then and now, my lasting impressions were the Tower at St Mark's Square, the Church of the Salute and the skyline of Lido, afloat over the mist of the balmy Adriatic.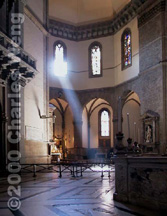 The ravishing beauty that is Florence has her own section in this site.
Gear - Leica M6 TTL (Summicron 35mm f2, Elmarit 90mm f2.8), Canon Pro70 digital

Base - Hotel Belvedere in Lanzo d'Intelvi