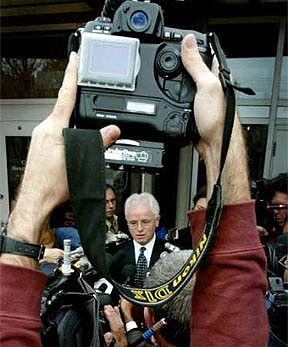 Meet the press – Digital SLRs are clearly the favorites of photojournalists. Here, Reuters photographer Andy Clark deftly found his mark (attorney Peter Ritchie, representing alleged serial killer Robert Pickton) between the arms of the hard-working bloke right in front of him.
Many digital point-and-shoots have swiveling LCD screens that function as real-time viewfinders, thus freeing the camera from the proximity of the user's nose -- a definite factor of fun, versatility and perhaps hygiene in candid photography. Because the "live" video image does come from the electronic sensor that will "expose" the shot, it is an optically accurate depiction of the subject, thus emulating the through-the-lens fidelity of a single-lens-reflex camera.
Unfortunately, this ergonomic advantage is not present in my Nikon D100, where the mirror that brings light to the prism viewfinder blocks the exposure area until the shutter is released. Such throwback to traditional SLR design is hardly necessary. Unlike film, which is irreversibly exposed whenever the shutter is open, the digital data from a sensor is electronically processed. Therefore it should not matter if the sensor is continuously exposed, as it is often the case while using a digital point-and-shoot.
However, because it is a single-lens-reflex camera, the D100 does give a time-honored feedback sorely missed in the smaller digital gadgets: a true mechanical "kluck" of the flipping mirror upon squeezing the trigger (which then momentarily blinds the viewfinder -- another shortcoming of traditional SLR design). The Canon G series, like so many other point-and-shoots, emit a digitally-sampled "click," a decidedly less satisfying experience.
My D100 has a CCD of 6.1 million pixels, 30-1/4000 second shutter speed, 1/180 sec flash sync, and 3 fps for 6 frames at high resolution. I bought it for $2000 back in Autumn 2002; by Spring 2004 its price sank by as much as half, then rose back up to around $1300 now that the D70 is on the market to compete directly with the wildly popular Canon Digital Rebel at the $1K retail price point. Were I to spend a grand on a new camera in May 2004, I would also consider the following 8Mp all-in-one models: Canon PowerShot Pro1, Konica Minolta Dimage A2, Nikon Coolpix 8700, Olympus C-8080, or the Sony CyberShot DSC-F828.
Source: Popular Photography and Imaging, December 2002, August 2003, March and May 2004
This web site is not affiliated with any of the companies cited herein, and is neither an official representation nor an endorsement of any of the said companies and their products.